Why Business Setup In Dubai?
Starting a business in Dubai is flexible and accessible. Many corporates, companies, and foreign investors are jumping in to grab this golden opportunity to form a company in Dubai. Below are the complete comprehensive steps to guide you with everything you need to know and understand about company formation rules and Business setup in Dubai, U.A.E.
During the space of the last few decades, the U.A.E. has had an incredible transformation and growth. Being a poor gulf nation of fishing and pearls, it has become a massive financial powerhouse with diverse and various thriving industries. Further, Dubai, U.A.E. has a very stable and structured political system, balanced and robust capital flow, business-friendly taxation options for foreign investors, and liberal trade restrictions for import and export. As a result, Dubai, U.A.E. has become an increasingly popular choice for foreign investment.
Advantages of Establishing Up a Company in Dubai
Ease of Doing Business in Dubai, Start your Company in Just 24 Hrs.

The Open Market and Low Taxes for your startup

Welcome to the World Class Infrastructure in Dubai

Most highly accessible location, all over the globe

Maintains a high standard of living
The comfort of Managing Business
Setting up a company in Dubai is straightforward, and this is the main reason why Dubai has earned the 16th rank on the ease of "Doing Business, "rated by the World Bank. If the company owner has all the required legal documents approved, setting up the Business in Dubai will be easy and fast. The other reason why Dubai is rated so high in "Ease of Doing Business" rankings is the number of "Dubai free zones" the U.A.E. authorities have established. All the "free zones in Dubai" allow almost 100% foreign ownership and exclusive benefits of the profits earned and substantial tax exemptions.
The Open Market of Dubai and Cheap Taxes
The U.A.E. government and the local regulatory authorities do very little interference in the business activities of the private companies in Dubai. There is "zero taxes" on the personal income. Dubai has a policy of a "free trade economy." The insignificant import duties in Dubai add to the charm. The labor policies in Dubai are imposed with liberal labor policies. These flexibilities benefit the companies to hire and recruit an employee from around the globe, regardless of nationality. Dubai is strict with fraud and money laundering activities. That allows the foreign investors to invest in Dubai and company formation in Dubai, U.A.E.
World Class Infrastructure In Dubai:
Dubai is highly modernized with the best infrastructure in the entire world. Dubai includes a number of "free zones" of international standards suitable for business setup in Dubai. The world class modern airport and well planned seaports handles around thousands of passengers on a daily basis. Dubai owns the modern and complex network of roads and highways that allow safe and easy road travel. The reliable telecommunication and infrastructure of Dubai is an added advantage, the uninterrupted power supply of Dubai and loads of other basic amenities are well enough to attract the international investors and business owners from all over the globe to set up their company in Dubai.
Highly Convenient Location
Dubai is well planned and located at a strategic location in the U.A.E. Dubai is situated between the Far East and Europe and connected with more than 85+ airlines currently operating in Dubai. These private airlines help fly the passengers to more than 130+ destinations worldwide. In addition, Dubai is also connected with over 120+ shipping lines. To put it simply, the best reasons to set up a company in Dubai
Excellent Standard of Living In Dubai
The residents of Dubai live to high standards. Dubai has a massive number of foreign inhabitants, making it one of the best planned and diversified cities on earth. Dubai is said to lead the world in "real estate," the best housing facilities, high-quality educational institutions, and high quality with high living standards and recreational activities. Due to its recorded low crime rates, Dubai has become one of the safest cities in the world.
How to Set Up a Business in Dubai?
The process of setting up a business in Dubai is straightforward and smooth. However, you need a specific set of documents to be verified. You need a few approvals from the concerned authorities before setting up a Business in Dubai as a business owner.
No doubt, the process of setting up a business in Dubai is straightforward. However, any individual with just basic knowledge about "how things work in Dubai" may not complete the document approval process in Dubai.
The steps to set up a business in Dubai are following:
If an investor is looking to "set up their Company in Dubai mainland, they should find the local sponsor first, although the local sponsor has to be a U.A.E. national only.

After getting the local sponsor, the other step is to obtain the N.O.C. letter from your local sponsor.

Prepare the "MoA of the company."The Memorandum of Association (MoA) contains the primary required conditions on which the organization will establish its Business in Dubai. 

The company owner needs to receive the initial approval from the local authority called "Department of Economic Development" (D.E.D.), Dubai.

After getting the D.E.D, grants, and initial approval, the Company must be registered in Dubai under a unique trade name.

When the "trade name of the business" is complete and obtained, the company owner must search and arrange a physical office space for rent or lease for their Business.

When you are set with the physical office in Dubai, the business owners will have to "apply for the trade license in Dubai."

Congratulations, you are all set to start your Company in Dubai after obtaining a trade license in Dubai.
Where to Setup a Business in Dubai?
Most investors often get confused while setting up a business in Dubai, U.A.E. Here is a list of benefits that you get to consider while setting Company in Dubai:
You get 100% ownership of your Company.

You avail the best tax benefits.

Dubai is both convenient to travel yet economical.

Dubai meets all your business plans and strategic goals.

Opportunity for Company set up in Dubai Freezone & Mainland.
Mainland Company Formation in Dubai, UAE:
Planning for Mainland Company Formation Dubai U.A.E, then for sure you need a trusted "company setup consultation in Dubai," Make My Company is the trusted name in Dubai. Sometimes, company setup in Dubai can be challenging but certainly not for us. Being the most trusted Business Setup Consultants in Dubai, we are the solutions for your business setup needs.
The Dubai Mainland companies (D.M.C.) are the most progressive business organizations in Dubai, U.A.E. The Dubai Mainland is directed by Dubai's "Federal Law No.2 of 2015" or the "new commercial company law" (NCCL), which replaced the previous "Commercial Company Law" (CCL)
To set up a Dubai mainland company, the Business should meet some legal structure set by the government of U.A.E. and needs to meet specific government policies. In addition, Company Should be located within the limitations of the commercialized areas governed under the jurisdiction of the "Emirati Government."
"Department of Economic Development (D.E.D.) is the local authority body that controls the responsibility to supervise its legal functions and also support economic development with its main objectives.
Process of Company Setup In Dubai Mainland:
Find the local Dubai company setup consultant required for the Local Liability Company (L.L.C.).

Get your company name approved from D.E.D.

Create your Company M.O.A. with a professional business setup service agent and apply "D.E.D." along with the trade license application

For the speedy company setup, up, 100% business ownership and tax exemption set up Business with Free Zones licensing.

Check your company location suitability, accessibility, and rents, etc.

Get all the visa eligibility and requirements.

Register a business consultant in Dubai as a trusted business solution partner.

Don't choose the business or trade license without speculation.

 
Advantages of Company formation in Dubai Mainland
Dubai mainland company enjoys the 100% corporate tax exemption.

Investors can operate the Company from any part of the U.A.E.

No minimum capital requirements for a local Dubai mainland business license

Can carry out Business in Dubai mainland

No currency restrictions

Fast & easy Processing of the employment visas

Mainland company registration provides the investors with 100% repatriation of the capital and profits.

Easy and hassle-free legal procedures in Dubai Mainland to get the trade license and business registration in Dubai

Easy step company incorporation process to set up Mainland Company in Dubai.

No audit requirements
Suggested Popular Business Locations in Dubai Mainland For Company Formation
As per Mainland Company Formation in Dubai, the foreign investors can claim 100% Shares of the company in U.A.E. Therefore, the best benefit of the mainland company owner can operate the entire Business all across the length and breadth of the U.A.E. Moreover, the Dubai Mainland company operation is not restricted to any geographical boundaries of the "Dubai free zones." 
Sheikh Zayed Road

Business Bay

Jumeirah

Al Qusais

Al Quoz

Deira

Bur Dubai

Al Karama
How much does it cost to register an LLC company in Dubai Mainland ?
Initial Approval Cost: AED 120

Name Approval Cost: AED 620

Notarization Fee of M.O.A.: AED 1,500

Trade Licence Fee: AED 10,000 (Approx)

2.5% of the premises annual rent levied as market fees: AED 250

 
How to set up a Company in Dubai Free Zones (DFZ)?
Certain areas in Dubai are designated as "free zones." The Dubai Free Zones are the recommended areas where foreign investors can set up their dream businesses in Dubai. The Dubai free zones are divided into various categories depending on the specific areas of business operations. Dubai Free Zone is a business that is 100% owned by the investor. To register your Company in Dubai Free Zone (D.F.Z.), you don't require the local sponsor or agent to act as the liaison to manage your Company.
Benefits of company setup in Dubai Free Zones (DFZ):
100% Business Ownership 

It can be set up and formed by only one individual.

You are eligible to open a bank account in Dubai.

100% Business operation secrecy maintained

0% Tax Benefits

Minimum Business Renewal Charges

An advantage to being liquidated anytime

You are eligible for international trade.

Can do multiple business activities

Can hold Properties in Dubai
Cost Of Business Setup In Dubai Free Zones (DFZ):
Sharjah Media City (SHAMS Freezone: AED 5,750 (Cost inclusive all the media activities, essential services, and e-commerce, without visa fee)

International Freezone Authority (IFZA): AED 5,700 (Thee Cost includes the provision for one Visa & AED 11,500 without visa fee)

Dubai South Freezone: AED 22,500 (exclusive of V.A.T. inclusive of the requirement for two visas)

 
Business Setup Services in Dubai
Make My Company provides various services for the Mainland Company formation in Dubai:
Best consultation for Dubai Mainland company formation

Dubai L.L.C. Company setup

Sole Establishment guidance

Our Experts advise for civil company formation, Commercial trade & Industrial License registration service in Dubai Mainland, U.A.E.

Consultation for fast approvals for trade license issuing from the "D.E.D.," Chamber of Commerce company registration, and various Lease Agreements guidance and assistance.

We introduce the most reliable U.A.E. national for Sponsorship (Local Partner in Dubai or Service Agent)

We are applying for Labour cards, Immigration and establishment cards, and Processing.

We provide "PRO Services" for all the visa Processing (investors visa and employment visa), medical certifications, Stamping & license Renewals.

Documentation of Company M.O.A. and various translation services for all the required legal documents 

Will give Complete guidance on company incorporation, different license renewal processes in Dubai, and other Company Liquidation Services in Dubai.

Will provide assistance and guidance in Bank account opening service in Dubai for the Commercial Accounts.

Dubai Company Registration Services

E-commerce company formation

Real Estate Brokerage

Setup Tourism Company In Dubai

Company Accounting & Bookkeeping Services

Professional Company Formation service

Dubai mainland company formation

U.A.E. Freezone Company Formation

Various PRO Services

Offshore company incorporation Services
Please Feel Free To Contact Us. We Will Get Back To You With 1-2 Business Days.
Business License
Related Post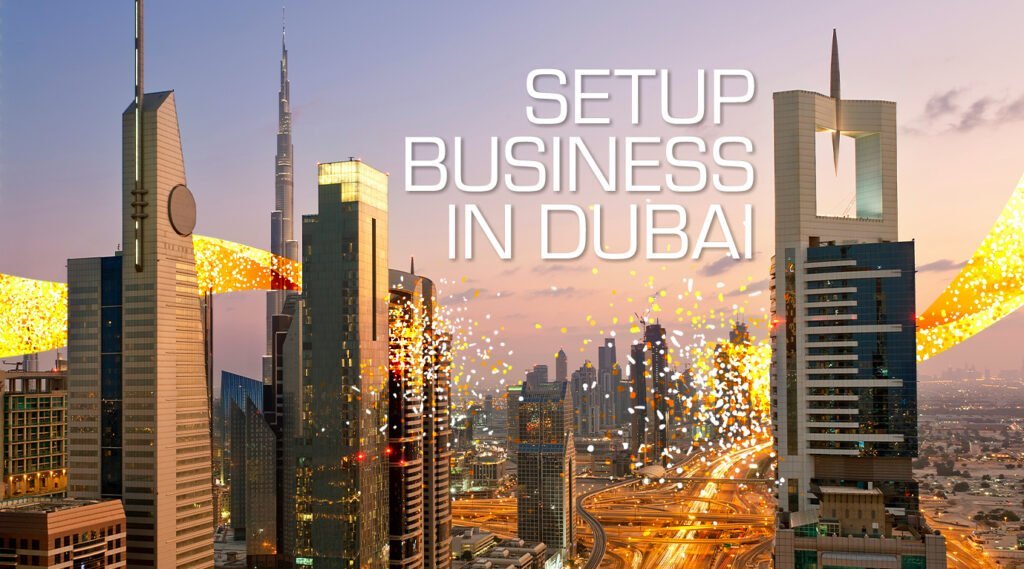 Why Business Setup In Dubai? Starting a business in Dubai is flexible and accessible. Many corporates, companies,...